HDD destruction

With 3R, you will safely destroy all data storage media, including all types of hard drives, magnetic tapes (DLT, Ultrium, LTO), USB drives, whole phones and tablets.
We use state-of-the-art methods to perform a complete and secure deletion of sensitive data, without the ability to recover them using any of the existing techniques.  Your security is guaranteed by 3R Certificates: Certificate No. 2037/09/2016/BI/C-(Z/1/2018): ISO 27001:2017 and Certyficate No. 2037/09/2016/J/C-(Z/1/2018): ISO 9001:2015. for the irreversible deletion of sensitive data from data carriers and devices, repurchase of out-of-date IT equipment, audit of electronic equipment at your premises or at 3R headquarters, secure electronic transportation from multiple locations.
3R is a team of specialists who provide you with professional knowledge and tools for secure data deletion, including: secure transport of equipment, monitoring, demagnetization of equipment with a 11,000 Gauss magnetic field generator, fragmentation – destruction of discs into 26mm shredders, and detail documentation– paper, photo and video recordings of the whole process. You have total control of the process at every stage of its implementation, and thus a 100% performance guarantee.
You have a 100% guarantee of confidentiality and security by using the most up-to-date equipment available: the Degausser ProDevice ASM 120 Professional demagnetizer, which complies with stringent safety standards and data destruction guidelines:  DIN 66399: O-2 / T-3 / E-2 / H-5. PCI DSS (Payment Card Industry) Data Security Standard, NIST (National Institute of Standards and Technology) Guidelines for Media Sanitization, NIST SP 800-36, NIST SP 800-88, HIPAA (Health Insurance Portability and Accountability Act), PIPEDA Information Protection and Electronic Document Act, HMG CESG IS5, OJ of 2004 No. 100, item. 1024. and the HSM Powerline HDS 230 shredder for stringent safety standards and data destruction guidelines: DIN 66399: O-2 / T-3 / E-2 / H-5.
For transportation of data carriers we use certified, secure metal containers with key and sealed for transport:  made according to the Regulation of the Council of Ministers of 1 June 2010 on the organization and functioning of secret chambers (OJ 114 item 765 of 26.06.2010), Order No. 12 / MON of the Minister of National Defence of 12 March 2010 on the specific organization of secret chambers and other secretariats of organizational cells responsible for the registration, storage, circulation and disclosure of classified materials, the application of physical protection measures and the circulation of classified information (OJ No 5, item 49 of 09.04.2010r.)
Seals used for closing containers and securing cars for transport, are certified by the Institute of Precision Mechanics. The same seals are used in PKP Cargo transport. Institute of Precision Mechanics, Laboratory of Mechanical Testing of Lightning Protection Devices and Lightweight Building Partitions, Certificate of Accreditation No. AB 035, ZT / 437/2013
Watch the movie from the HDD Destruction process by 3R.
Stages:
Step 1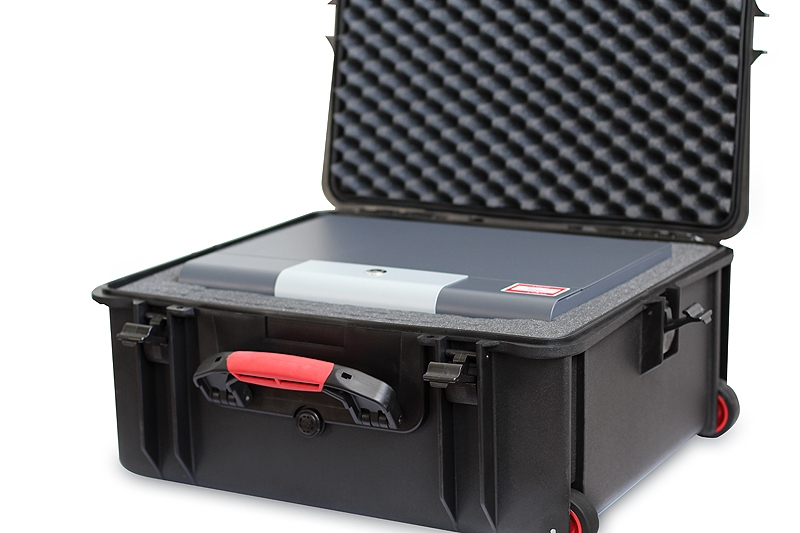 The first step in destroying sensitive data is demagnetization in your company. We use this high-end Degausser ProDevice ASM 120 Professional, which generates 11,000 Gauss magnetic field.
Already at this stage, we guarantee that your data from magnetic disks / tapes are completely, effectively and irrevocably removed.
Demagnetization with the ProDevice ASM 120 effectively removes and destroys data on media even if they are not technically sound.
Demagnetization consists of irreversible deletion of the data saved using demagnetizing device. The media is subjected to a strong magnetic impulse. This impulse destroys all the records that are made in the magnetic layer of the medium. After the demagnetisation, the data is lost irretrievably because the servo paths in the process are completely erased.
Step 2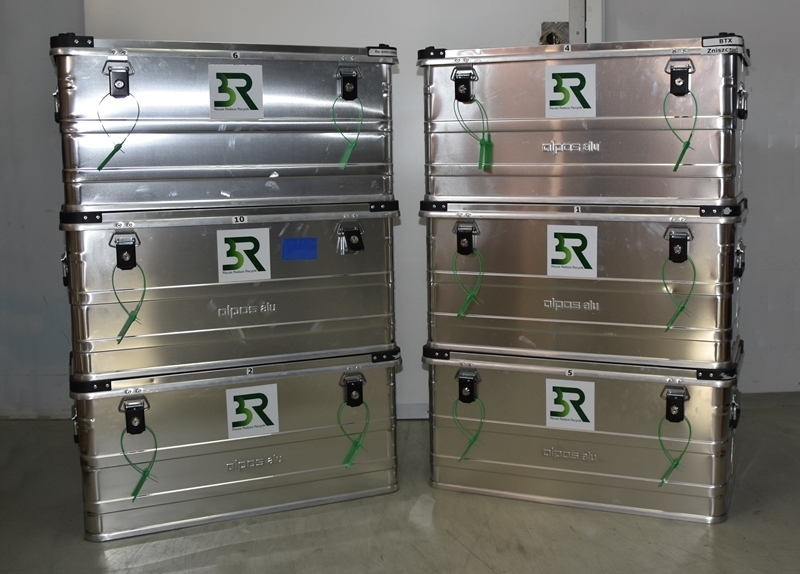 The second stage is the secure reception and transport of the media:
During the stocktaking and loading process, only 3R employees and persons designated by you as a contractor are present.
Disks are placed in secure, closed containers, secured with a lock and seals.The same containers are used in transport and storage by the Ministry of national defence.
After loading the media, the car is sealed.Seal numbers are sent the day before for verification of compliance. The seals used by us are also certified
It is possible to record the way from the contractor's company to the headquarters of 3R. This is an additional service. It is also often the case that the entire process is accompanied by Security Agents delegated by the Customer during transport and destruction.
Step 3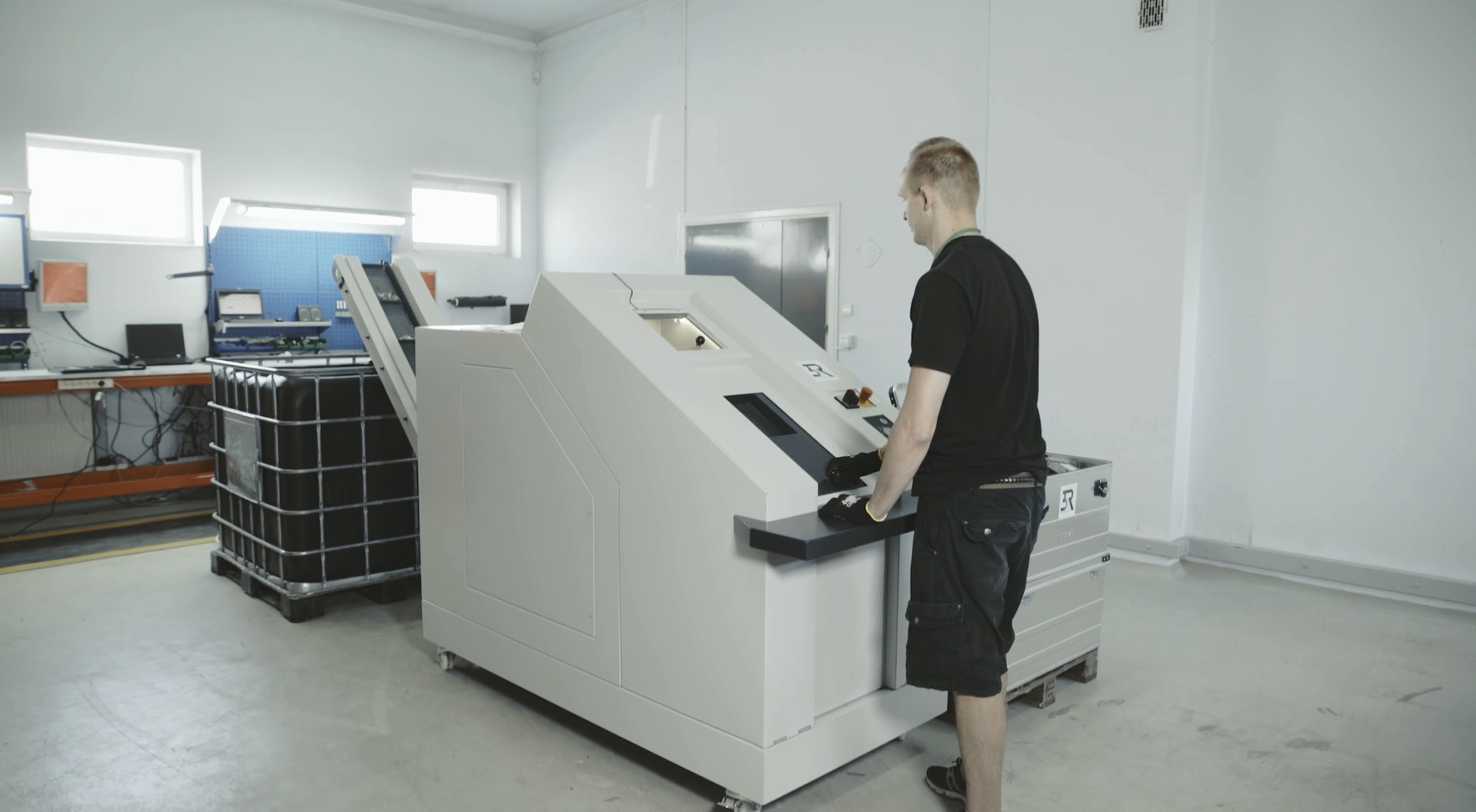 Finally, the third step is to mechanically destroy the media for shredders <29mm (Dimensions of the parts are 26 mm by 11.5 mm)
First of all we check the inviolability of the seals of the crates during transport and send the photo documentation to the contractor.
We carry out the mechanical destruction of the media using the HSM Powerline HDS 230 destructive machine, meeting the safety requirements of DIN 66399, H-5.
The entire process of destroying disks is recorded and made available to the Contractor.
Slices (about 26mm) formed in the process of destruction are transported to an industrial plant and melted.
What does the customer receive under the service:
Security and 100

%

guarantee of irreversible destruction of sensitive data carriers
Report and certificate confirming service delivery
Invoice
Registration of the equipment pickup process
3R Certificate